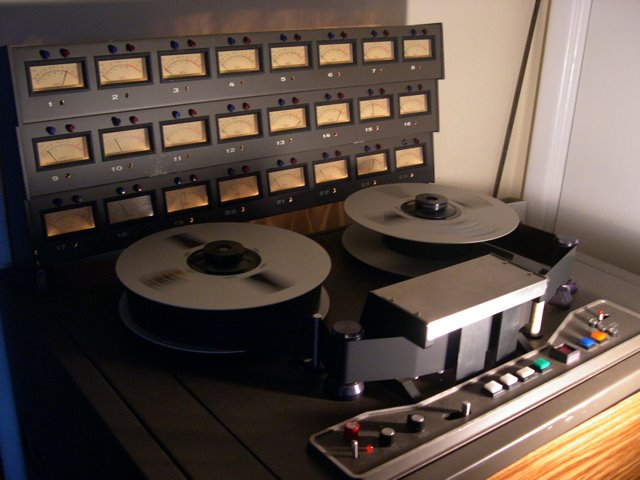 Here's another batch of "6 Questions with…" interviews from my old Optical Atlas website. So much time has passed that a little context is necessary. San Fadyl, drummer in The Ladybug Transistor, passed away on April 25, 2007, a year after my interview with Ladybug's Gary Olson. Shortly after interviewing Gary I interviewed the wonderful Sasha Bell, who in prior years breathlessly split her singer/songwriter duties among The Ladybug Transistor, The Essex Green, The Sixth Great Lake, and solo project The Finishing School. In the interview she revealed that she had left the Ladybugs to focus on The Essex Green – which, at the time, was enjoying some well-earned praise from the mainstream press thanks to their album Cannibal Sea. These many years later, she's fronting The Sasha Bell Band. Regarding Derek Almstead's interview, it should be noted that he has become an integral part of Will Cullen Hart's Circulatory System, which has been much more active since this piece was first published (the band now regularly tours, including many shows with the reunited Neutral Milk Hotel, and has released the albums Signal Morning and Mosaics Within Mosaics). Fronting Faster Circuits, Derek also released the 2013 album Tunes of Glory. In the interview he mentions M Coast, his project with Andy Gonzales of Marshmallow Coast: Andy has returned to his original moniker and has just released a new Marshmallow Coast album, cheekily titled Vangelis Rides Again.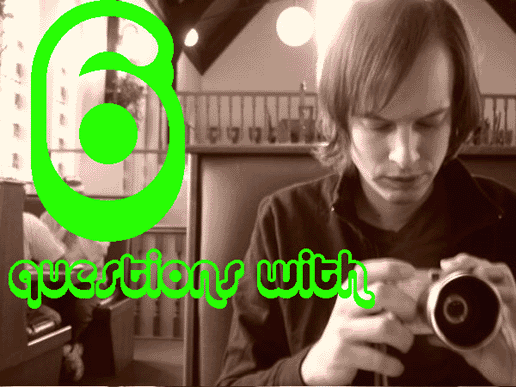 Gary Olson/The Ladybug Transistor: April 4, 2006
Gary Olson is the lead singer (and formidable trumpeter) of The Ladybug Transistor, the Brooklyn-based band that first introduced the Marlborough Farms collective to the indie pop world. The Ladybug Transistor's first two albums, Marlborough Farms (1995) and Beverly Atonale (1997) contained, as Gary wrote in the debut album's reissue, "very mid-90's indie sounds," but they also had a warmth that became synonymous with the band's music. The third album, 1999's The Albemarle Sound, is generally considered the breakthrough. Having enlisted Jeff and Jennifer Baron for his previous album, he now brought along San Fadyl, as well as Sasha Bell and Mike Barrett of The Essex Green. The band's sound was transformed with lush, pastoral melodies and richly-layered arrangements of strings, trumpet, and guitar. Meanwhile, the songwriting duties were dispersed, democratically, throughout the band. Sasha, who only sang one song on Albemarle Sound, took more prominent vocal duties in their next two albums, Argyle Heir (2001) and The Ladybug Transistor (2003). The latter took their sound at a slightly new angle; recorded in Tucson, Arizona, the flavor and swagger of the American Southwest is distinctive on the record. This year, hopes are high for the imminent return of the Ladybugs. Gary Olson was kind enough to take the time to answer 6 questions for Optical Atlas about the band's history and their near future.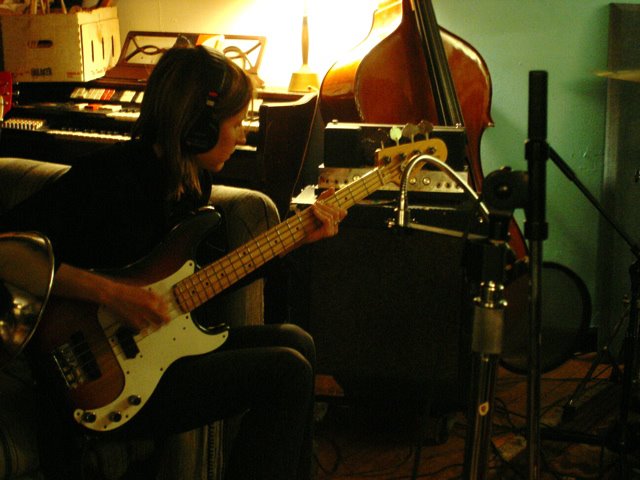 1) Are you working on a new album, and if so, can you provide any details? Is a tour in sight?
San (Ladybug drummer) just arrived in New York from Zurich where he normally lives. We've all been getting together lately for rehearsals and are working on arrangements for new songs. Along with Julia [Rydholm], San and Jeff Baron, we have Ben Crum and Kyle Forester from Great Lakes helping a lot with these sessions. We'll get a lot of basic tracks done in the coming weeks and build on them throughout the spring. We're planning on a late 2006 album release and an EP earlier in the year. We have some touring pending for this summer.
San, Jeff, and I also spent a lot of time last year working with Kevin Ayers on his next record which was done at Wavelab in Tucson and at Marlborough Farms. Heather McIntosh and Joe McGinty also contributed a lot to the album. Kevin is in London now working on finishing vocals. I hear they are planning to have it out this autumn.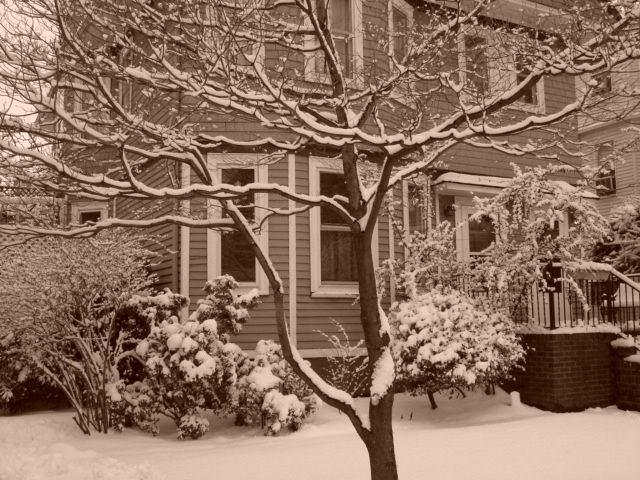 2) Describe Marlborough Farms if you can, and how it became a home for so many talented musicians. Is it still in use by the Ladybug Transistor?
Marlborough Farms is a big old house in the Victorian Flatbush area of Brooklyn. Most of Ladybug have lived here at one time or another. It was an ideal place to be at the time the group started coming together…with enough room for all of us to live and record. I'll always call it home and it will always be very much a musical place. Kevin Barker (of Currituck Co.) and Heather McIntosh (of The Instruments) currently reside at the Farm so there is always some interesting happening here. The studio has been busier than ever as I've settled into doing a little more freelance recording work these days. Will Hart, John Fernandes, Derek Almstead and Heather of Circulatory System were here in February doing some overdubs for their next record. It was a great experience to finally get to work with them.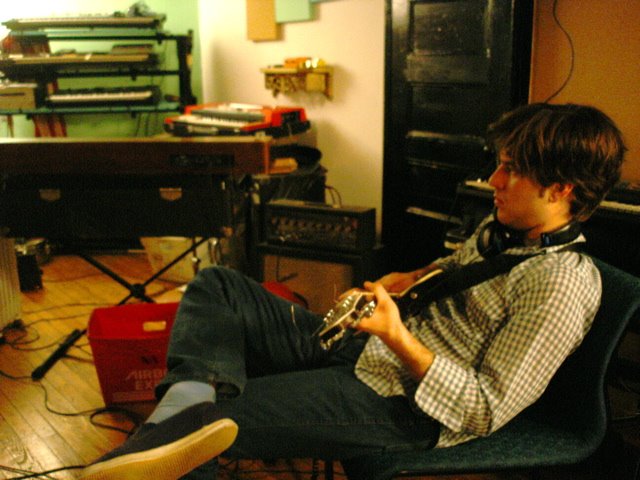 3) The style of your music changed dramatically with The Albemarle Sound in 1999, although there were signs of a new direction with the previous album; can you talk about what prompted the shift?
Well, there was no real band on the first two records. Ladybug began as more of a recording project with me and our original drummer Ed Powers playing most of the instruments. I was experimenting a lot with my new 8 track…going in many directions, I'll confess. We became more of a band once we began to tour properly with the Beverley Atonale album. Around that time Jeff, Jennifer and Sasha became more involved.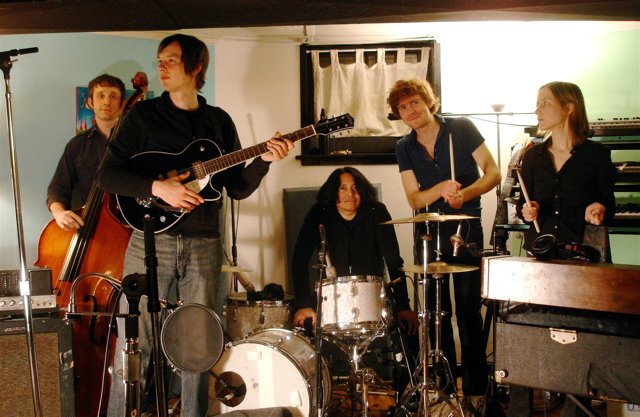 We suddenly had four songwriters in the group and wanted to make something that reflected the records we loved at the time (Love, Kinks, Jan and Dean, Byrds) and that was The Albemarle Sound. San also came in to take over on drums and all of this helped Ladybug make that leap. With Julia joining the lineup just after Argyle Heir, we had our first dedicated bass player, which truly rounded out the evolution.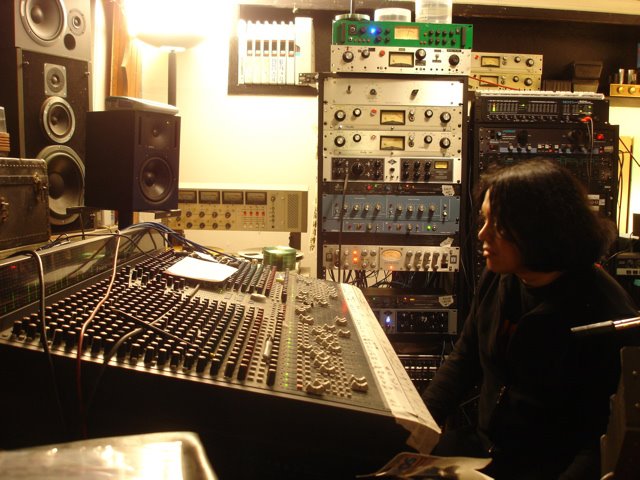 4) The songs are always just credited to The Ladybug Transistor; are the songwriting contributions as creatively democratic as they seem?
I'll admit it's a bit vague to credit all of our albums like that. Basically on the last three records, the songwriters (me, Jeff, Sasha and Jennie when she was with us) all contributed the same amount of songs, so I was just listing writing credits as "The Ladybug Transistor." I think it came from an idea I had when we started about wanting the group to be more collective-like and less about egos. Songs definitely originated from different people though and maybe they should be credited individually for that.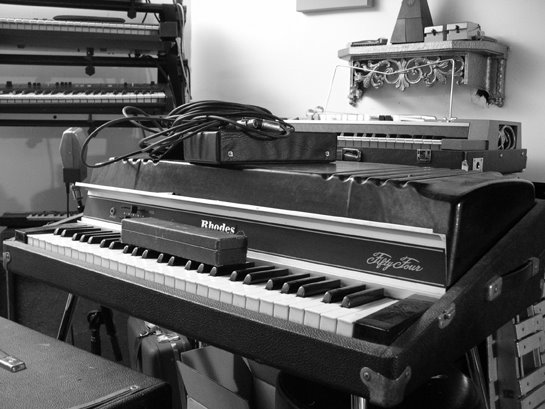 5) There seem to be a lot of connections with your bandmates and Sweden. How did this come about, and can you describe the connections as they are today?
Outside of the US, Sweden and Norway were the first places that seemed to have some kind scene for what Ladybug were doing. Olivia Tremor Control and Neutral Milk Hotel had been over the year before and reported back many good things. We visited the first time and played the Emmaboda Festival. I still meet people who were at that show. On that trip we met people and bands who became good friends over the years…and have even performed at one of their weddings. I've been going to Scandinavia every year since then with Ladybug or doing solo shows with friends who live over there, so it's a special place for me. Ole [Johannes Åleskjær] from Loch Ness Mouse plays with me regularly when I'm there, as well as Wyatt Cusick from Aislers Set who has been living in Gothenburg. I met Jens Lekman last year and had a nice time joining him as a touring musician on his US tour last autumn.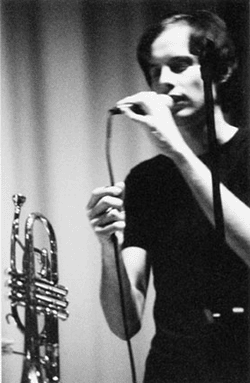 6) Is "The Swimmer" based on the Burt Lancaster picture, and was someone in the band a fan of the film? [In the 1968 film, Lancaster plays a man who deals with a crisis by swimming all the way home through his neighbors' suburban swimming pools.]
Yeah, we are big Burt fans. I saw that movie during a really bad heatwave one summer, so it was perfect timing. I really liked the concept of swimming home through a network of backyard pools. It also seemed to fit in well with the water themes of Albemarle Sound–"Oceans in the Hall," "Like a Summer Rain," "Meadowport Arch." Those figures on the front cover came from a painting we found in Venice.
***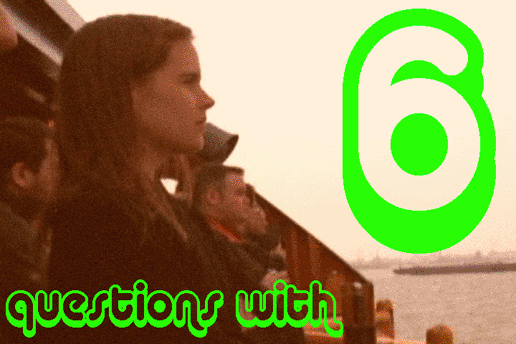 Sasha Bell/The Essex Green: April 18, 2006
Sasha Bell is singer, songwriter, and multi-instrumentalist (keyboard, flute, etc.) for The Essex Green, a trio of prolific and talented songwriters–Chris Ziter, Jeff Baron, and Bell–whose latest album, Cannibal Sea, has been receiving glowing reviews since its recent release. She's been recording with the Green for almost a decade, but has been exhaustively active in other bands as well, most from the creative wellspring of the Marlborough Farms collective (Marlborough Farms being a home in Brooklyn): she's provided songs and vocals for The Ladybug Transistor, The Sixth Great Lake, and her solo project, The Finishing School, which released a CD and DVD on the Telegraph Company label in 2003. Since then, she's left both Ladybug and Sixth Great Lake to concentrate her efforts on Essex Green. The concentration has paid off, and Cannibal Sea features some of her purest and most delightful work yet.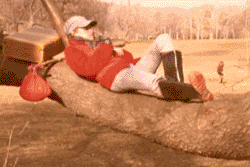 1) How did you first become interested in music? I'm curious what your first instrument was, and how you eventually started playing in bands.
My first instrument was a toy piano that I got for my 4th birthday. I can't quite remember how the transition came about (I must have taken to it), but next thing I knew that same year I was taking piano lessons. I started playing flute in the 4th grade which was the year that kids in my town could join the band our choir. It was something we all took for granted, that if you wanted to learn music and play an instrument the option was there. If you couldn't afford an instrument, the school would provide it. And this was a small semi-rural elementary school. This is obviously a dying era in our public school systems.
I started off playing keys in the Ladybug when the first Merge release came out. Gary [Olson] and Jeff [Baron] needed a keyboard player to go on the first Ladybug tour. Voila! Before that it hadn't occurred to me to traverse the musician/fan divide. Duh. Wish I'd woken up sooner.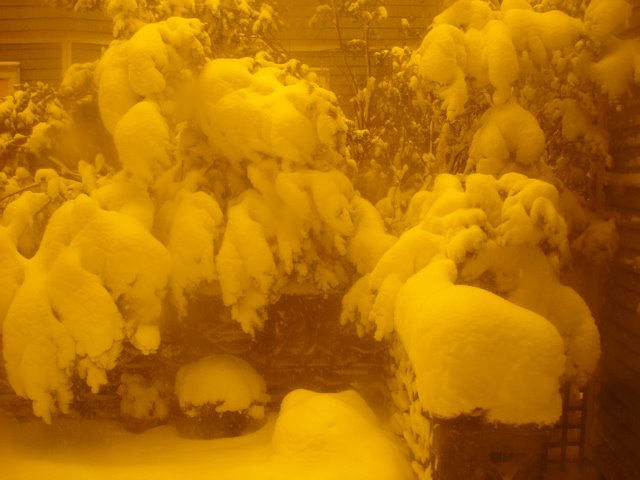 2) What was/is Marlborough Farms life like? I have a very mythic picture in my head, painted through CD booklet photos and song lyrics, that's probably due to be shattered.
I lived at Marlborough Farms for about two years. I remember the first time I had to go there to pick something up, coming from my house in Brooklyn Heights, and it seemed so far away and odd that way. Eventually I moved in there with Jeff, my then boyfriend, and he, Gary, and Gary's girlfriend (also Jeff's sister) Jennie, recorded the Ladybug album Albemarle Sound there in the basement that year.
Those were indeed magical times, really exciting and creative and spontaneous. We'd be in the basement every night recording. There was a piano in the house, which was a luxury I hadn't experienced since living at home.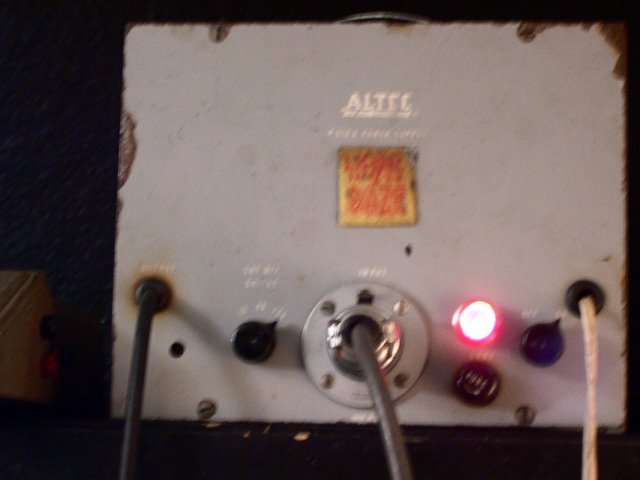 There's also a side patio with a grape arbor so I loved hanging out here and tending my plants all day. The park was a stone's throw away. It really was excellent in so many ways! The drawback to the Farms is that there are (or were anyway) a lot of people living there at once. No privacy whatsoever. After about a year this style of living started wearing thin, and the communal creative hive started to seem more like a compulsory nightmare. So year two was a bit strained, but by and large I have fond memories.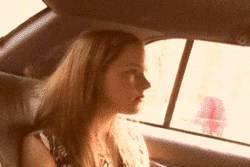 3) How do you craft a song–from the lyrics to the music, or vice versa? And how do you find inspiration for writing a song?
If I'm lucky I will be inspired lyrically by an event, a book, a person, etc. And then mulling over that event as I sit at the piano will translate into a rhythm or melody. I find it much harder these days to write without any direction though, to sit at the piano cold. I find that the older I get the more distracted I get–the harder it is to sit down and concentrate at the piano without thinking I should be doing a million other things, mundane things like checking my email, straightening up. It's horrible I must say. I need to find a way to reverse this! Help!
4) Continuing that idea, how do you decide if a song you write should be used for Finishing School, Ladybug Transistor, or Essex Green?
I don't play in the Ladybug anymore, and Finishing School is inactive until I can come up with another batch of songs. So the decision process is that much easier!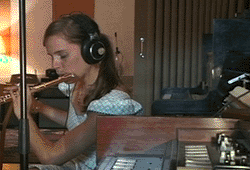 5) I really enjoyed your solo album; will there be more music from the Finishing School in the future?
Well I hope so. I think I need to retreat into the woods again and get writing. I'm hoping this summer I can afford to disappear for a few weeks and get rid of my ADD, get some good writing done. The question is: where do I go?
6) You're about to spend a lot of time on the road touring; what is life on the road like for a touring band, and do you enjoy it?
Until this past November I hadn't been on the road in a year and a half almost. So I had a lot of time to recharge and get excited again about traveling this time. There was a period recently where I was on the road quite a bit, and I just started to feel really worn out physically and emotionally to the point where I was questioning playing music at all anymore. I'd made a decision to myself sometime in 2003 that I was going to devote myself to the bands at the expense of any stability at all, and that proposition ultimately backfired. I was so penurious and so exhausted in the end. But once I officially decided to take a "hiatus" from everything, it became eminently clear to me that playing music was what defined me: I did it for love of playing, the love of being creative and love of collaborating with my friends. It defined me more than anything else. I also realized that it doesn't have to be all or nothing in this life. I can have several harmonious lives at once. Long story short, I do really enjoy touring now. I feel like Chris [Ziter], Jeff and I are closer than ever. We've been traveling with our dear friend Julia [Rydholm] (on bass) and the four of us are very tight. We just had an excellent tour in Germany and I enjoyed every second–even the annoying bits you're supposed to get annoyed at!! I honestly feel so privileged to be able to travel the world with these guys. PLAYING MUSIC! How great is that!!??
***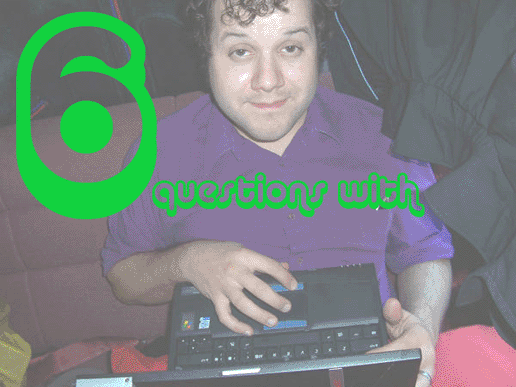 Derek Almstead/Circulatory System and M Coast: March 15, 2006
Derek Almstead has played, engineered, or toured with just about every band you would call "Elephant 6." He came to the collective through of Montreal, joining Kevin Barnes in the band's formative years and served as bass player (as well as drummer, mixer, engineer and various other roles) all the way through 2002's Aldhil's Arboretum. Since leaving of Montreal, he's focused more energy toward mixing and mastering numerous albums in his studio, as well as playing with Elf Power, Circulatory System (whose second album he's currently mastering), the Instruments, the 63 Crayons,Summer Hymns, Great Lakes, the Visitations, the Sunshine Fix, Pipes You See, Pipes You Don't, and many, many others. Derek has also been an on-again, off-again member of Marshmallow Coast, the solo project of Andy Gonzales (who has also left of Montreal). His status in the band has just become a lot more permanent. Say it in Slang is the new album from the band which now calls itself M Coast.
1) What exactly is M Coast? Who's on the album, and how does this differ from Marshmallow Coast?
M Coast is basically an evolution of Marshmallow Coast. Andy Gonzales and Sara Kirkpatrick are still involved, I've returned, my wife Emily Growden has joined, and we have a drummer for our someday live configuration named Carlton Owens. What really makes M Coast different from Marshmallow Coast is the introduction of my songs, and two new voices, mine and Emily's. Andy and I had been working on the new Marshmallow Coast record and my new solo project at the same time. I was already playing drums and bass on both projects, and Andy was going to be in my band and vice-versa. I was confronted with being in seven bands! It dawned on me that we should consolidate the project into something new. Voila, six bands! We somehow convinced Emily to sing on a few tunes, and the whole thing just came together.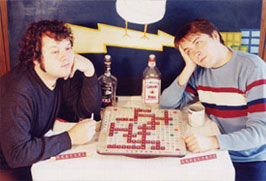 2) At what stage is the M Coast album? (And are you still looking for a label?)
The album is mixed, I'm waiting a little bit to master it, and the artwork is in the trial stages. We sent the record to Misra for a first crack, but have yet to hear anything back, so we're trying to compile a list of labels to send it to. Actually, I think Pickled Egg is in.
3) Can we expect the new Circulatory System album in 2006? How far along is it now?
I really think so. It is incredibly difficult to say "done" with this stuff; there is just such a standard to it.
We have several mixes at this point but there is definitely some back and forth (to put it mildly) to go.
4) When mastering another band's album, what do you consider your role in the relationship? That is, how do you work with them?

One of the funny things about fulfilling all these different roles in the album creation process is that people tend to get really confused about what hat they're wearing at any given time in the process. It's amazing how much people think about the final product even when they're in the middle of a guitar take! Obviously, this is more of an inherent stress the more DIY the project. There's this John Cage rule I've really taken to heart where he says something to the effect of "don't create and analyze at the same time." Being on all sides of the equation really challenges you to compartmentalize your viewpoints, one of the reasons I'm waiting to master the M Coast stuff; I need a little perspective. So when I master another band's record, I'm a mastering engineer, period! What a break, right! It's one of the reasons I love doing it for other people. Generally, I get a few CD's in the mail and then send a few CD's back a few days later! Sometimes there are revisions, sometimes not. Sometimes people like to sit in, either out of curiosity or concern, which is fine too.
Generally people can be as involved or uninvolved as they desire. The bulk of artists I've dealt with are just ready to be done at that point; it's nice to give them a final feeling of excitement when they get back something bigger than they sent away.
5) What kind of mastering equipment do you use in your studio?
I do all digital. Wavelab, Waves mastering tools. My ears. I can rent gear sometimes. One of the reasons mastering is so expensive at other places is because of the gear they have to maintain–much of which gets left out of all digital projects–and worse yet, the "gear mentality" which prevails still even in the face of the DIY movement. If you go to the $1000-plus place you'll hear the difference, but our end result will be comparable; the bill won't be! After I've mastered my 200th record I'll raise my rates a little, buy a few fun things, but mainly I like offering cheaper alternative.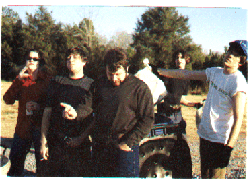 6) Can you talk a little bit about of Montreal? I'm curious how you initially became involved with the band, and what you think of their new direction.
Kevin and I met shortly after I moved to Athens through these girls that we both knew in a band called Spackle. I sat in with their band on bass playing a Bikini Kill and a Minor Threat cover at a house party; Kevin saw it and asked me to play. We got together a few times, and then he ended up joining Elf Power briefly, playing his songs with them. A few months later we ran into each other at a convenience store and he asked if I knew how to play drums. I lied and said I did, and ran home to take a few lessons from my co-worker Carlton (M Coast drummer).
So we got together with this guy Joel Evans on bass, Bryan Poole on guitar and me on drums and started rehearsing. A week before our first show Joel quit and Bryan moved to bass. So that was it for a few years. Bryan was more into Elf Power at the time, so the project at first was really just Kevin and I. It was fun to learn all this recording stuff, to do a lot of playing. It was my first real exposure and I was just into the idea of doing something musically. I always looked at it as kind of a music school, because the songs were challenging and I got to do a lot of varied things. As it went on Kevin got more into the theatrics, which I could care less for, and over time became really sick of. So here I am in all these bands doing so much stuff and one day I just realize that I'm at odds with the leader of one of the groups' vision. I've always considered myself a facilitator in other people's bands, I'm good at it. So it was just time to be done. Eight years is a long time to be in a band, the longest for me. They've really taken off since I left, and that makes sense; everybody's into the vision and they've worked hard on a well-laid foundation. I'm proud to have been a part of it.