When I first started Optical Atlas, it was just a MySpace page! I started reaching out to Elephant 6 artists for interviews, and when Robert Schneider of The Apples in Stereo agreed, I quickly realized that it was a bit embarrassing to just post his interview on MySpace, and that I should set up a proper blog. Most of my early interviews with those in and around the E6 collective were in the format of "6 Questions With…" Since I didn't live in Athens, Lexington, Brooklyn, etc., and didn't have a landline (thus, no phone interviews at first), it seemed easier to just provide someone with 6 questions over email. Any more than that might seem like homework. With just 6 questions – often not very good questions, because I was new at the game – the rest was in the hands of the artist. Some responded with very brief answers, and I found that my format gave me no room for follow-up. Others had either the time or the inclination to respond in greater detail, like the 2006 Bill Doss interview I posted last Friday. Regardless, I was thrilled to be interacting with musicians I had followed for many years. And, as it turned out, many would become advocates and supporters of Optical Atlas, none more than Robert Schneider, who would even contribute a theme song for the site…but more on that later. Here are some "6 Questions With" responses from the early Optical Atlas days. I'll post more, including Robert's, in the days ahead.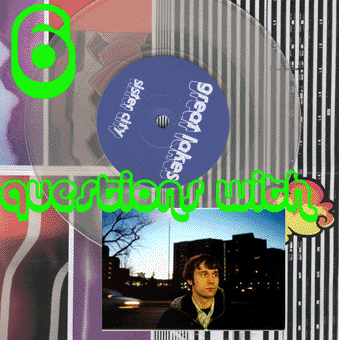 Ben Crum/Great Lakes: March 15, 2006
Great Lakes has hit its tenth anniversary. The band–Ben Crum and Dan Donahue–formed in 1996 in Athens, although Ben and Dan had known each other since high school. As a trio (with Jamey Huggins from of Montreal), they released a self-titled first album during Kindercore's peak period, an album that still stands out as one of the most distinguished in that label's catalog, an addictive selection of psychedelic pop songs that flow together cohesively. Their sophomore album (released on Orange Twin around the time of Kindercore's collapse), The Distance Between, collected singles, rarities, and cover songs, and has a greater emphasis on rock, notably on the energetic "Sister City" and the extended jam that closes the album, "Conquistadors." The band has since relocated to Brooklyn, and are about to release an eagerly-anticipated third album, Diamond Times. Ben Crum agreed to answer 6 questions about the new album, his creative relationship with Dan, and an aloof painting.
1) All I know about your new album is that Empyrean is releasing it this year. I'm curious who appears on the record and how the music compares with your previous work.
These people appear on the new album: Dottie Alexander, Jeff Baron, Kevin Barnes, Tim Barnes, Dave Carey, Matt Crowe, Anne Cunningham, BP Helium, Jamey Huggins, Jay Israelson, Heather McIntosh, Gary Olson, Brian Slattery, Matt Stoessel, Jeff Winesett, and Chris Ziter.
The main difference in "who played what" with this album is that Jeff Baron [The Essex Green] played probably 2/3 of the lead guitar on the record. In the past that would have been pretty much 99% me. I like his playing a lot and I think it gives the record a more "accomplished" sound.
But as to how the record sounds stylistically–with the first record I was going for something more 60s pop and more psychedelic, but with this one I tried to make it more organic and natural sounding. Or, I didn't so much try as it was just a natural thing for me.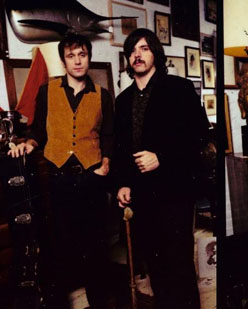 2) Can you describe how you and Dan became involved with Elephant 6, and your thoughts on the collective in general?
Well, we were living in Athens, in the midst of all that stuff. And we just fell in with that. It fit with what we were doing and we were influenced by it at the same time. It was hard not to be. Plus Robert Schneider helped mix our first record, and he was a big proponent of having us "on the team" or whatever. But I don't think Great Lakes has ever been considered a true Elephant 6 band by your average die-hard Elephant 6 fan, or even by those of us in the band.
3) How does your collaboration with Dan work? On your last album, he's credited for the lyrics, while you have lead vocals, so I'm wondering how clear-cut are the boundaries when you're assembling the music.
Well, Dan is purely a lyricist. He doesn't really write or play music, or sing. We're both 32 now, and we've been writing songs together since we were 16. Half our lives. He writes lyrics and I put them to music. Sometimes I'll bring him a piece of music and he'll write lyrics for it, or vice versa. But these days we'll hang out and he'll show me some lyrics he's come up with and I'll try to put them to music on the spot, with him there. We've realized over the years that that tends to work best for us. That way we can communicate during the process. I don't necessarily like to talk to him too much about what the lyrics "mean." Or what he means by them. I find it's better for me to sing them from a personal interpretation. That way it means something for him, for me, and for the listener–which may all be the same, or may be totally different.
4) How long do you work on a song before you know it's finished?
I feel like the music I write that I like the most usually comes really fast. And a lot of times the lyrics too. But, also, there have been many times when Dan was revising and editing right up to the moment when I recorded the vocal. So it varies.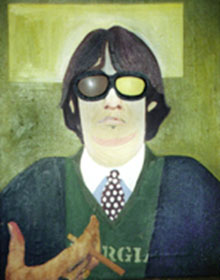 5) "Virgl" is one of my favorite Great Lakes songs, so indulge me. I remember on the old Kindercore website there was an actual Virgl painting shown, which the song describes perfectly. Which came first, and can you talk about the origins of the song, if not the production, which seems pretty elaborate?
Dan bought that painting at a flea market and we all just flipped out about it. It hung in our house on Ruth Street for a long time. That song is the one Great Lakes song which Jamey Huggins wrote the music for. He and Dan collaborated on the lyrics. I think Jamey had been working on that music for a long time, stringing all the parts together. He was always writing these long, epic pieces of music, and he never really finished them or made real recordings of a lot of them. I'm glad we got this one down, though.
Production-wise, that was done right at the end of the first album. I'd been using a TASCAM 38 8-track, but towards the end of recording the first album we added a beautiful-sounding TEAC 40-4 reel-to-reel 4-track to the studio. By the time we were recording "Virgl" we'd gotten pretty good at experimenting with compression and with hitting the tape at certain levels to get certain sounds during the submixing process. I think it shows in that recording.
6) The Distance Between has a number of cover songs, which span a wide variety of music; is this a fair glimpse of your influences? Certainly the band reminds me of the Zombies.
Yeah, there are three covers on there. I just recorded some songs I liked because Dan and I weren't writing a lot of songs at that time. I guess they do say something about our influences. The Bee Gees I like a lot. I've always liked the Linda Ronstadt version of that Michael Nesmith song ["Some of Shelley's Blues"]. And, yes, the Zombies were definitely a big influence. But my biggest influence is probably The Band. I'm not sure you always hear it in the music, but it's there. It's mostly a feel thing.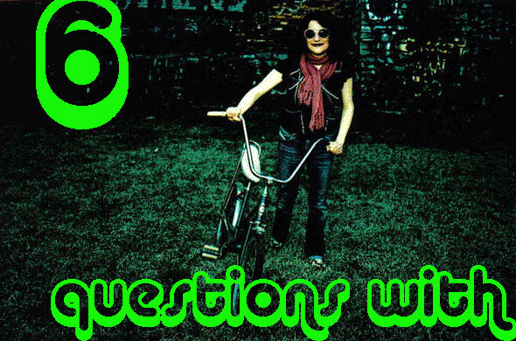 Dottie Alexander/of Montreal: March 16, 2006
Dottie Alexander is the resident keyboardist at of Montreal.
1) How did you initially become involved with of Montreal?
of Montreal initially began as a 3 piece in 1997 with Kevin (of course), Derek Almstead on drums, and Bryan Poole on bass. In '98 Bryan left to play full-time with Elf Power (he's since made his glorious return to us) and Derek moved to bass. The band's sound was expanding a bit and Kev needed someone to play keyboards as well as a new drummer. Jamey and I were playing shows around Athens as Lightning Bug vs. Firefly which was just the two of us on drums and keyboards. Not only were we a ready-made package deal, but we were so darn cute back then! The two of us joined up to play this big E6 festival thing in Florida and never looked back.
2) Has anything interesting happened on the most recent tour that you'd like to share?
Well, something interesting happens every day, but what sticks out? Hmm…Matt Dawson knocked himself out stage diving in Virginia. That's kind of interesting. I saw the world's largest hairball in the basement of a monastery in Oregon. It was cut from the stomach of a 300 pound pig. That was interesting as well.
3) What are your thoughts on the band's increasing popularity of late?
Well, it's all a bit hard to process at the moment. (I'm writing this from SXSW.) Of course it's great to see so many people at the shows–it's just not fully sunken in yet.
4) Which do you prefer, performing live or recording?
Both, but if I had to choose I'd say performing live.
5) Barbara Walters-style personal, probing question: Your MySpace blog mentions that you recently tried to quit smoking; how's that going?
Terrible. Smoking right now, actually.
6) When do we get a My First Keyboard album?
Hmmm. Never? Yeah. Probably never. (But thanks for asking.)
* * *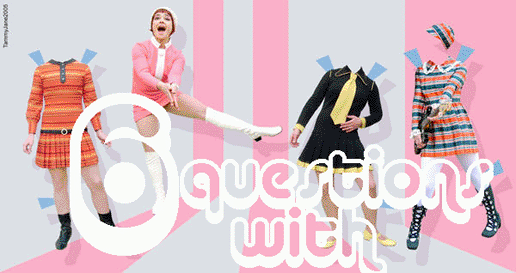 Tammy Ealom/Dressy Bessy: April 18, 2006
Tammy Ealom is the lead singer/songwriter of Dressy Bessy, the Denver-based band that's been rocking indie pop fans since their debut EP in 1997. Four albums later, the band's received considerable exposure and wide critical acclaim. The band's most recent album is Electrified, released on Transdreamer Records.
1) What's next for Dressy Bessy? Is a new album in the works, or anything else on the horizon?
Yeah, I've been demoing new songs for the past eight months or so. We're looking at possibly releasing an EP in the fall, new album 2007! Until then, on and off touring…we head to the U.K. and Sweden next week, can't wait!
2) What was it like to play Late Night with Conan O'Brien, versus playing any other venue? Anything interesting happen?
Playing Conan was awesome…very different than playing a club. (1) You show up at the studio around 9am…wait around a bit…sound check…wait around a bit more and then boom one shot and you're done. (2) It's not everyday that you play a song six feet away from Max Weinberg and his band. 🙂
3) When looking back at the history of the band, has the approach to the music or the focus of the band ever shifted? In other words, do you see the band as having gone through any significant changes that affected the music?
Only that we've become a better BAND over the years; it takes time for a group to really get to know what makes each other tick and to respect/accept each person's role in the band…we've had our ups and downs over the past eight or so years, but I can truly say we are better than ever, musically & personally! 🙂 True love always ~ long live DB!
4) You've provided some amazing artwork for the albums; have you had any training and have you always been interested in art?
Yeah, I often say I'm more into crafts and that the main reason I began writing songs was so I could start a band and make band-related stuff…paper, scissors, glue…Photoshop has been a blessing for my busybody ways as well. I always HAVE to be doing/making something whether it be writing/recording music, cutting pasting paper, sewing a new trim onto a new dress, crocheting or transforming photographs. I blame my mother for this, she'd always involve me in her crafts as a kid…yay, mom! (I became interested in photography some fourteen years ago and made a living shooting fashion for eleven…I still shoot tons for the band.)
5) I understand you make and sell your own clothing, correct? Can you explain what it is you do?
I collect/wear vintage 60's/70's clothing and have for years. Due to lack of space and constantly buying things that don't quite fit, I decided to start an eBay shop…I'll take a longish thrift store granny dress, cut it off into a spunky mini and use the remaining fabric for a matching hat, belt etc. I haven't had much time for this sort of thing lately, but hope to get back into it soon.
6) What was the inspiration for the "Electrified" music video?
We just wanted something simple, colorful and fun shot within John and my living room. It was a blast!
***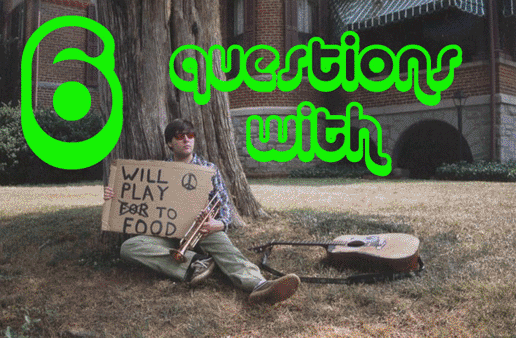 Andy Gonzales/Marshmallow Coast: March 15, 2006
Andy Gonzales is behind Marshmallow Coast, which has crossed three labels, five albums and numerous singles with a very particular mix of melody and absurdist humor. After moving to Athens, Andy joined of Montreal for an extended period, while still putting out solo work to a growing circle of fans, and even, for a certain time, writing and recording songs on commission for anyone who wanted a personalized Marshmallow Coast song. While his once-prolific output has slowed down a bit as he's entered nursing school, he recently launched a new project with Derek Almstead, Sara Kirkpatrick, Emily Growden, and Carlton Owens: M Coast, the first album from which will be called Say it in Slang.
1) Why did you decide to turn the Marshmallow Coast into the M Coast?
Well, after five albums with marginal success, you gotta try tweaking things a little bit! I have been thinking about changing the name forever, and this will have the least amount of confusion. I am thinking about putting on the CD "M (marshmallow) Coast." Also, having Emily singing and Derek singing kinda makes it a different thing all together.
2) Although you've collaborated in the past, Marshmallow Coast has always seemed like your solo project. How has the creative process changed now that that there are multiple perspectives shaping a song?
Well, I started out doing another Andy record, and I was really happy with that. THEN! Derek started laying the pressure on me big time, he was all like, "Andy, man, let's put our records together ('cause he was already making his own masterpiece). And I was like, "Dude, that's your shit and this is my shit, you don't mix shit." Then he was all like, "well, either you take my songs or I delete the files for your record!" and I guess that's what won me over…
It is nice, because in the future, we can just put about six great songs on there apiece and make a whole record rather than having to rack my brain to write more. Derek and I have always thought along the same lines; even though we occasionally butt heads, it has always worked out. I also want to say that it was great having input from Sara, Emily, and Derek with stuff like lyrics, because I would have an almost complete section, and they added nice touches that worked well. This is also the first time Sara has helped mix, and she made excellent suggestions; we just need to get more Emily input, which I think will come once she feels more a part of it all.
3) Please spill all you can about the Bizarre Classical album, of which I know very little.
Well, this is essentially an instrumental record. It is comprised largely of the songs Derek wrote for his solo record, that we couldn't fit on Say it in Slang. I had some instrumentals too, and I need to record more because now it is largely Derek's stuff. I think Cloud Records is releasing it, and they are 100% respect. Basically, I have been away from the game for a couple of years, and Derek is making his big debut, so we are just trying to get all the music that has been stockpiling out there. I also want to add that I have been bugging Derek for years to release his stuff, so I am very excited in that regard.
4) Pitchfork recently posted a long list of "bad" album covers, and a number of your fans took umbrage when Ride the Lightning made the list. Please vent.
There's not much to say. I wish they enjoyed our stuff, because it is high quality musicianship. Really, I don't believe having bad press hurts you. The simple fact that you mention them in your interview says that they are an influental website, so I hope they will review the new CD. The funny thing is that they didn't even review Ride the Lightning, probably because they kind of liked it! Clearly, it is taking time for M Coast and my sense of humor to reach certain people. I don't think anyone out there writes songs like mine, and I would think that they would pick up on that.
5) Will your earlier, out of print albums be reissued anytime soon?
Well, to the best of my knowledge Happy Happy Birthday to Me will be doing this. It is a strange case, because in a sense I had to grow up in front of an audience. Did I know what I was doing as a teenager, recording wise? No. But I put it out there, and can only hope that people will look at the whole spectrum. Though, I do have a desire to re-record Seniors and Juniors using better gear, while keeping it faithful note for note. If George Lucas can do it…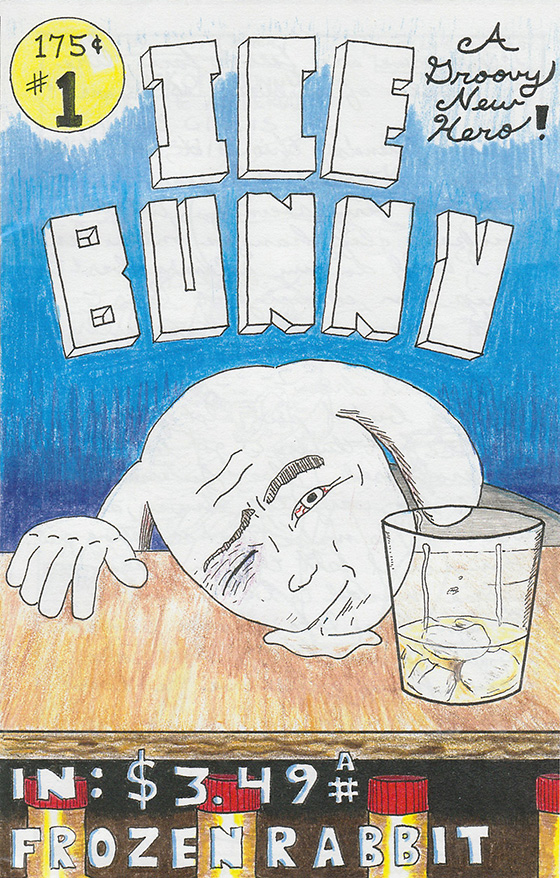 6) Who and what is Ice Bunny?
That is my comic character that I am working on. He was a normal (talking, human-like) rabbit who got changed into something akin to Ice Man (because I always liked him). I am selling issue 1 on my website, and I have written #2 but am still working on the art. I like comics…
* * *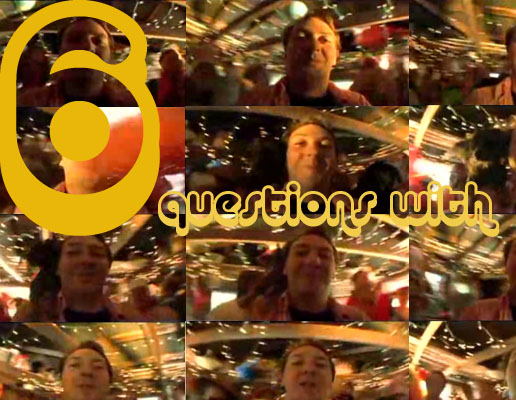 Andrew Rieger/Elf Power: August 29, 2006
Andrew Rieger has fronted the folk/psychedelic/rock band Elf Power since 1993, when he was a student at the University of Georgia. Through eight albums and a handful of singles and EPs, the band has become a staple representative of Elephant 6, and appropriately Andrew has appeared on albums by Olivia Tremor Control, of Montreal, Fablefactory, Circulatory System, and others. While Elf Power's classic When the Red King Comes is a concept album set in another world, most of their work is straightforward rock and roll with dream-like lyrics, and albums such as A Dream in Sound, The Winter is Coming, and Walking with the Beggar Boys have garnered considerable critical acclaim. Elf Power's most recent releases are Treasures from the Trash Heap, a tour-only rarities compilation covering the band's entire history, and Back to the Web, of which the Onion A.V. Club wrote, "Rieger surrounds images from nature and recalled dreams with compact, layered folk-pop songs that mingle joy and fear in equal measure…he proves the band's ability to thrive with age." In anticipation of the band's massive tour this fall of the East Coast and Midwest, and fresh off an appearance on the children's TV show Pancake Mountain, Rieger submitted himself to Optical Atlas' 6-question interview.

1) How did the Pancake Mountain appearance go, and what can we expect when we see what was taped?
It was a blast…we acted out some skits with the kids, had a dance party, went swimming, lots of little kids jumping around going apeshit, twas a good ol' time! Not sure when the show will be airing…
2) You also shot a video for "All the World is Waiting" this year, and it's terrific work. Basically two very long takes, and in the second take, it looks like the camera is attached at your waist. Is there anything you can tell us about the shooting?
It was done by our friends Nick Canada and Jay Nakashi. Nick has done a lot of our videos over the years, and I think we all agree this is the best one. It was shot in our friend Jeremy Ayers' garden, with lots of friends assuming various guises and characters. To get the wobbly psychedelic look we lip-synched to the song running at a much faster speed than normal, then slowed down the tape.
3) Your songs often center around dream imagery, either explicitly referenced or just dreamlike and stream-of-consciousness. Do you ever actually describe dreams you've had in song, or is it just a recurring Elf Power theme?
Some actual dreams make appearances. The other night I had a dream that I was riding a giant crocodile around like a surfboard; don't know if that one will make it to tape or not. I've also been having more lucid dreams lately where I realize I'm dreaming and take control…usually involves flying or pursuing otherwordly nymphs.
4) Whose idea was it for the artwork of Back to the Web? It seems to be a collage-tour through Elf Power's past. And is there any photo or drawing of the bunch that you'd like to draw our attention to?
That was my idea that Henry Owings helped me to realize. There's lots of friends and icons from our past. Inside cover, bottom middle square is a hitchhiker we picked up in Nashville years ago. He was a crazed-looking 7-foot-tall hippie freak who went by the name of "Big Bird" and who was jumping trains and travelling all over the country. We were travelling in a Winnebago at that time and we took him in for about an 8-hour ride and had many wild and grand discussions. We've always hoped he'd resurface at a show, but alas we've never seen him again.
5) I'd like to ask about some side projects. First, according to Sloan Simpson you recently played with Will Cullen Hart and John Fernandes at Heather McIntosh's AUX festival as Vortex of Withering, correct? Can you describe what Vortex of Withering is, and if you've played together in this incarnation before?
Vortex of Withering is an impov free-form heavy noise jam that Will and I get together every few years…I think this was our 4th performance in the last 10 years!
6) Would you describe how you became involved with the Major Organ and the Adding Machine album? It seems like the album was an experiment to have various members of the "Elephant 6 Orchestra" write songs for others, sing others' songs, or play around with tracks that others had recorded, but there's a cloud of mystery over the project. One thing's for certain–that's you singing on "Francisco's Victory"!
I'm not at liberty to discuss the inner workings of the Major's body of work, but I will tell you that the Major Organ movie is coming soon and it will be a twisted masterpiece…and Francisco will be seen in all his glory and splendor!
* * *