Another one from the vaults: here is my interview with Dark Meat, the Athens, GA band active from 2004-2010. (An article on the band's sudden rise and fast, hard breakup is at Creative Loafing.) As they were about to release their first record, Universal Indians, I spoke to Jim McHugh and Ben Clack. This was first published on November 11, 2006.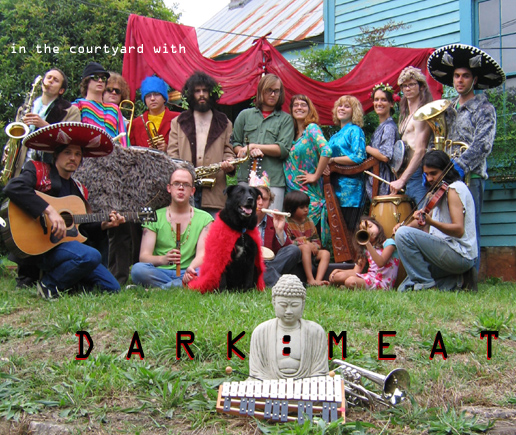 Originally from North Carolina, Dark Meat founders Jim McHugh (guitar) and Ben Clack (bass) launched the Athens band following the Elephant 6 ethic of DIY and picking up a few E6'ers along the way (John Fernandes and Eric Harris of Olivia Tremor Control have played with the band, as has B.P. Helium from of Montreal).  But existing separate from the Elephant 6 collective, Dark Meat forms a collective of its own.  Their live shows feature a large onstage crowd of talented musicians and singers, including the Vomit Lasers horn section and female backing vocalists known as the Sub-Tweeters.  As for the sound, it's a swamp-stomping blend of a catalogue of influences (psychedelic mysticism, Motown, blues, punk, garage, etc.) that shouldn't blend seamlessly, yet somehow do.  Their first record, Universal Indians, will be released November 21 on Orange Twin Records.  Recently Optical Atlas spoke with Clack and McHugh to set the stage for the upcoming release of Dark Meat's sweaty, exhilarating debut.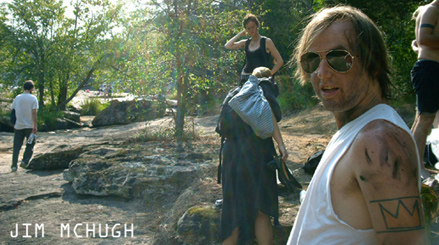 Optical Atlas:
How long have you two known each other?  The press release for the band says you're both from North Carolina, and seems to indicate that you put the band together while working at a restaurant.
Ben Clack:
We first met back in 1996-97, my senior year of high school and his freshman year of college.  He was playing in a grindcore band called President's Choice and his bandmates went to college with my best friend.  I met him at a show they played and I went pretty wild and thrashed their guitar player's gear (in enthusiasm).  After the show we hung out and we've been buddies ever since.  I ended up going to college in Greensboro, and he transferred there his sophomore year. We ran into each other in the cafeteria one day, and we used to hang out a bunch and go record hunting together.  Our friendship grew out of that, and about 2,000 beers later we're best friends.  We moved down to Athens in 2004 knowing only two people or so here and started playing music and making friends almost immediately.  We worked at a few different restaurants and after about a year I started working at 5 Star Day with Jim, Forrest [Leffer], Kris [Deason], Charlie [Estes], Becky [Noble] and Jeff [Tobias].
Jim McHugh:
It's true. Ben and I met at a show that I was playing at a biker bar in High Point, North Carolina; he was buddies with the drummer and bass player of my band President's Choice.  President's Choice was a three-guitar thrash band with noise interludes and a goofy 'tude; I played guitar along with my cousin Mike and this weirdo Republican hippie we knew named Sam, who now does some braniac abstract hip-hop shit out of Chapel Hill. It's not like it was "movie magic" or anything, but I remember exactly the very first moment I met Ben: my cousin and I were smoking weed behing a bush and he walked up wearing–this is how I remember it, though I don't know if it's true–all white.  That night we played and he went bananas and started thrashing the joint, and everybody joined in, and first our songs, and then our gear went down in the process; in duress, we turned to a remedy that Dark Meat now utilizes: the amorphous, exhaustive noise jam. Ben and I got to know each other because I transferred to UNC-Greensboro, where he was a freshman.  We both worked at the radio station–he did the Free Jazz Show and I did the Accoustic Delta Blues Show–and we both checked out all the rad punk rock shows that went on around Greensboro then: awesome, energetic, nihilistic house shows that lasted till 3am: people so drunk that they could barely stand in the wind of the music.
It was almost like performance art, these shows: Lightning Bolt, Los Crudos, Black Dice, His Hero is Gone, Blownapart Bastards, Oi Polloi.  Ungodly loud and fierce, in a feral environment where anything went.  We were there, big-time. We both lived there for about six-seven years.  We were record-buddies, and our tastes were always expansive: free-jazz, the classic rock we both grew up on, psych, garage, the punk rock that was coming through.  In school, he was an art major and I studied creative writing.  I think one reason we got along so well, besides our mutual enthusiasm for music, is that we both came from small towns, and had been forced into a partial state of disinterest regarding the cultures of our upbringings by our burgeoning interest in art and music, our interest in a type of intelligence that couldn't be found in Reidsville–where I'm from; a tiny town of 12,000 in the foothills where my family has lived for generations–or Rocky Mount, where Ben's from: small town in the desolate sandhills of NC, where, likewise, his family has been forever. Anyway, we came up together in that sense: grew our balls, so to speak, artistically, and in a sympathetic manner because of our similar backgrounds.  I played in tons of bands in Greensboro, and ran a space called the Onion Cellar that housed awesome touring bands for about four years: we did shows for Arab on Radar, Young People, Wrecker, Devil Music, Usaisamonster…way too many to count.  Ben did flyers and shirts for my bands and for the bands that played at the Cellar, and he was way into doing huge drawings and plaster-casts and sculptures.  Greensboro was really cool back then–a cohesive community with really cheap rent, the continuing DIY house-show ethic, and awesome local bands that have gone criminally unnoticed: Facedowninshit (who have just recently started putting out records on Relapse Records, though I lost touch with them and they now are in a drastically altered form than when I fell in love with them in the various basements of Greensboro), Mercury Birds, the original Cherry Valance (actually from Raleigh, but I saw them so much in Greensboro and elsewhere, that they definitely formed the shape of my brain and I regard them dearly in my memory as a local band), and, finally, the almighty All Night (best band you've never heard; Blue Cheer meets The Rolling Stones; Google them or something; their live shows were incomparable and Ben and I saw them basically on a biweekly basis).
In North Carolina, I was in these bands, who shared bills and members with all of the above, and just bills with a lot of the great touring bands: The Childrens, Great Falls, The Burning Downs ("Dead Man" is actually a Burning Downs song; me and my cousin's band from years ago), The Shivs, and about a million other bands and projects that lasted one or two shows.  Ben was known around town for his guerilla performance art and his noise projects, not to mention his huge drawings and sculptures that he'd display places. For multiple reasons, Greensboro ran out of gas, and Ben and I found ourselves, once again, feeling mutually about the scene: mutually miserable.  A lot of our friends had become drug casualties, and we were both pretty bummed.  We packed up and came to Athens, on a somewhat-arbitrary whim, though I know that Ben had been accepted into a design program that was bulldozed on account of red-tape.  First-off in Athens, I played with some dudes I knew from NC that had moved here.  Musically, it wasn't really my bag, but they were my buddies and I felt committed, and I wanted it to work. Back then, I wore a pretty noticeable pall of lethargy and darkness.  Ben, one night, lectured me about how I needed to get off my ass and start writing songs and lyrics again–about how much it disappointed him to see me play halfheartedly this music I took little interest in, when he knew what I could do as far as songwriting goes.  He was characteristically Dostoevsky-serious about it, and I took it to heart; I was bummed.  A little later, I was kicked out of the band I was playing in–called Disband–and then Ben and I moved into this huge blue house on Pulaski Street and I had to move all my gear from Disband's practice space into our front room, and we had all this shit in the house, and–though I don't know how we avoided it through the years–Ben and I started playing together.  I got him a job at the restaurant were I worked, and then we enticed our coworkers, all of whom played in different bands, to come start a Neil Young cover band with us to make some money.  We started playing together.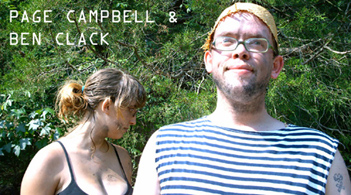 Ben Clack:
One day we all went out to Orange Twin to catch the Olivia reunion gig, tripped our asses off and started the band the next day, fleshing out jam sessions Jim and I were having with our project The Bonermen.
Jim McHugh:
We all went to the Olivia Tremor Control reunion gig, and we all ate handfulls of mushrooms, and through the night, it dawned on us fully: what all of us could achieve as a unit if we just opened ourselves up to the potential of our different personalities and tastes–how expansive our music could be if we JUST LET IT.  Next practice, we were playing new songs I had written that week.  I resurrected a few old songs of mine, too, so we'd have some shit to jam on next to the new songs we were coming up with: "Dead Man," as I said earlier, and "Well Fuck You Then" (by the Childrens, aforementioned).
Ben Clack:
After a few practices we saw there was a lot else there and it kinda took off with a few of Jim's tunes and a few songs fleshed out of the group.  It's really a synthesis of musical and performance ideas we had been tossing around since our early days of knowing each other, but this is the first band we've been in together.  The expansion of the group came about very organically, with other co-workers and friends coming over to jam out and share a beer and dip in our record collections.  It's stretched out because of the chemistry we have musically and most importantly in our friendships.  Everyone in the group comes out of different musical backgrounds, so it can be very exciting to arrange Jim's tunes.
Jim McHugh:
Tons of musicians lived on Pulaski, and they'd pass by our big blue house and hear us, and ask to come and jam.  We never said "no." Eventually, we played a show, and people caught wind of our vibe and were attracted to it and wanted to come join.  Like I said, we never said "no."  Here we are today: one year and 30-plus shows and a millon practices and some mezcal and some beer, etc., later.

OA:
There are a couple of Fernandeses on the record…how did they get involved?
Ben Clack:
John is a friend of ours and we all just kinda started playing together. One day he brought Sophie and Kiran to the studio, and they're brilliant children and they sang right along you know.
OA:
Is one of the children providing the "Ohhhhh yeah!" in "Well Fuck You Then"?
Ben Clack:
That's Sophie singing.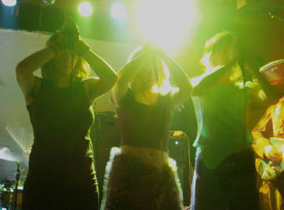 OA:
How did it come about that the band would form these sub-groups onstage, the Vomit Lasers and the Sub-Tweeters?  Both the horn section and the female backing vocals are powerful and overwhelming on the record.  There's also a great variety to the female vocals–some in the Motown mold, but not all.
Ben Clack:
It all kind of just happened. Around the time of the group forming it seems that many of us were going through huge, huge, huge periods of change in our lives, and so there was a gravitas towards the expansion of things.  Kris [Deason] had played with Al [Daglis] in another group and they had grown up together.  Al is extremely talented and he was the first sax player to come by.  We had known Charlie from Greensboro, and he hadn't played his trumpet in years.  We nudged him to pick it back up and he blew us away.  Aaron [Jollay] had been involved since the beginning and he's played in hundreds of groups over the years on both trombone and coronet.  Jeff hadn't played sax seriously in years and he is a fucking virtuoso with any instrument, so his energy and abilities in music theory added much to the group arrangement.  Nick Canada was our buddy and we needed another trumpet to round out the section, and he had just left Phosphorescent, and so he stepped right in.  John sat in with our other group Thunder Thighs one night and our chemistry was immediate.  Everyone in the Vomit Lasers have particular strengths and they work fantastically as a sub-group.  Their internal communication is astounding and really helps in the organization of the arrangements.  As for the title of the section, it's a term we were throwing about after a night of hard boozing, and it's funny and stuck.  The Sub-Tweeters come out of a couple of different places.  Heather [Heyn-Leffer] is Forrest's wife and she's the Tina Turner vocalist.  She sat in with us on our first show, and it worked instantly.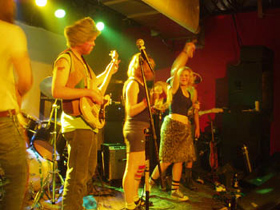 Page [Campbell] was a friend of ours from around town.  When she was on a break from Hope for Agoldensummer and we started Thunder Thighs (me on drums, banjo; Jim on guitar and vocals; Kris on guitar; Aaron on drums, bass, trombone; Page on vocals and guitar) and her voice is a natural harmony voice to Jim's so she was a perfect compliment to Heather's soul shouts.  Claire [Campbell] is Page's older sister and she is the third harmony to Jim and Page.  It's all very organic.  As for their name,  it came out of their work on their choreography and vocal lines.  They were the first to dress as a section.  One day after all of this we looked around and all of a sudden we had a giant loving human keyboard playing our tunes and arrangements.  The great thing is that everybody is such a complete badass at their instrument that it was as if we were all one giant mind.  It's a loving group and it all runs very smoothly, which allows us to completely lose our shit live and improv together with very little worry.
OA:
What is the snippet of singing heard at the very start of the album, before the first song begins?  It sets just the right kind of mood.
Ben Clack:
When we were recording the record we were all at the time furthering our interest in the early 60's British folk scene.  I had come across the anthology of Anne Briggs after reading about her associations with Bert Jansch.  In Thunder Thighs we cover several British Isles traditional tunes, most of which we've learned from various interpreters (Renbourn, Jansch, Davy Graham, The Collins Sisters, Sandy Denny, etc.).  I brought the record into the studio, and the next day when recording "Freedom Ritual," Page goes into the studio bathroom and tracks the last verse of the song acapella.  It was a nice happening that really sets off the tune's Irish roots (among many others), and really helped to synthesize the several sonic qualities we were shooting for with the recording of the tune.
OA:
Given the number of people crowding onstage, has anyone ever been injured?
Ben Clack:
No injuries except for psychic damage, and all of our ears are quasi-fucked. It is a graceful tiptoe blast on stage, cords die often, and things keep going.
OA:
I like how the record is so high-intensity that it has these low-key moments, the "field recording" tracks, as a way to give the listener a breather.  And with the chatter and sounds of a group of musicians hanging out, it also fills in the gaps to complete a portrait of Dark Meat as this creative collective.  On the other hand, the songs themselves have a really elaborate production.  Are you satisfied that the record is a fair representation of what the band is, and have you started thinking about the next one?
Jim McHugh:
One thing I want to emphasize is this:  we've never thought about Dark Meat much, we've just DONE it.  Ben naturally assumed the role of designer and visual-coordinator and "idea man" as far as performances goes because that's where he's coming from.  I write songs and lyrics because that's what I do.  People in our group naturally step up in the fields where they feel strongest, and we remain open to that dynamic–to listening and not being tied down to one vision or one aesthetic–and the result is usually worthy, often beautiful.  For instance, we never thought about recording Universal Indians, we just set the wheels in motion, busted our asses for four months, and then took stock of what was there and organized it musically and visually into what it is, now, as an album.  That's what I'm proudest of with Dark Meat: that, despite the tremendous scope and personnel list of the band, Dark Meat has never ever seemed forced or pushed; it is a natural outgrowth of our artistic inclinations as individuals and as a group; performance-wise, musically, visually, personally, artistically, we are all in our Natural Habitat. Dark Meat is the specifically-colored-and-textured electricity that has passed between my brain and Ben's brain for years, brought to physical and musical fruition by our dear friends and fellow musicians who feel a harmony with it, and have become dedicated to it, and have sacrificed and worked in its name to achieve what we have achieved to this day. There'll be more, too.
Ben Clack:
I feel that the record is a pretty complete picture of the past year of our lives. Currently we're about 60% through with the writing of the next record. We hope to get into the studio in April to start tracking the follow up.
* * *