The delightful and talented Heather McIntosh has had a varied career, to put it mildly. Apart from playing on a large number of albums from the Elephant 6 crew, she's performed on Saturday Night Live with Gnarls Barkley, and has transitioned into a successful career as a film composer, scoring the controversial Compliance (2012), the upcoming Manson Family Vacation (2015), and many others; she was shortlisted for Best Score for the 2013 Academy Awards. In my interview with Heather from July 2nd, 2006 she discusses her band The Instruments.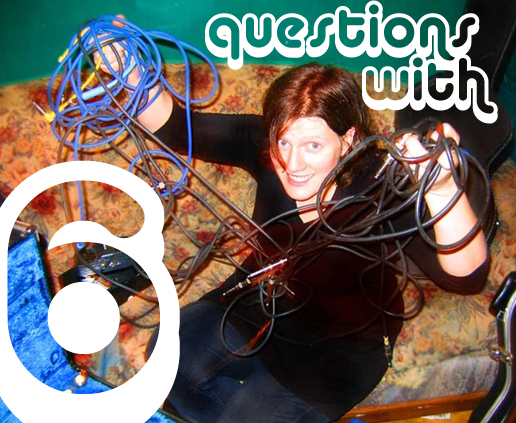 When Heather McIntosh, fronting her band The Instruments, opened for Elf Power in Chicago recently, it was following a rock band whose posse of local fans crowded the stage and howled for encores; the same folks seemed bewildered when Heather left the merch desk and took the stage with a cello and a skeleton crew including Pete Erchick (Pipes You See, Pipes You Don't) and Derek Almstead (Elf Power), opened a beautifully-bound journal which doubled as a setlist, and began singing "Lullaby." Some adjustments were made in the audience, but thankfully by the end, an appreciative crowd had formed, pulled in by the mesmerizing music.
"Lullaby," from Billions of Phonographs, The Instruments' debut album, could describe not just Heather's set, but her entire catalog of songs. The vocals, reminiscent of Suzanne Vega, are often soft, as though she's reluctant to get in the way of, well, the instruments, and truly some of the finer tracks on her latest CD, Cast a Half Shadow, have no lyrics at all. But at other times the instruments are an arrangement of voices beating up against each other like waves, such as on "When the Stars Shine," where her voice is uniquely pitted against Jeff Mangum's, or on "Through the Air," where the title phrase seems to circle and float like a leaf on a breeze. With a supporting cast including Erchick, Almstead, and Will Hart, Hannah Jones, and John Fernandes of Circulatory System, Cast a Half Shadow has become one of the word-of-mouth musical treasures of 2006. But she's kept herself busy with other projects, and doing much to promote experimental music, from co-helming the recent anthology of Athens avant-garde sounds, AUX, to an upcoming "integrated media arts day" in Athens. Heather recently spoke to Optical Atlas about the history of The Instruments, life on the road, and progress on the new Circulatory System album.
1) When did you first start writing and recording music, and how did the Instruments originally begin?
The first music I ever wrote was when I was playing bass in this kind of punk rock band called Year Zero around 1994-95ish (with Jon Lukens-vocals, Brandon McDearis-drums, and James Dunn-guitar). We practiced a couple of times a week and played a bunch of hardcore house shows in Athens and Atlanta. We also opened up a couple of times for The Makeup, which was pretty great, because I really loved that Nation of Ulysses, Rites of Spring, Moss Icon, D.C. stuff at the time (I'm still a sucker for it, I can't lie). We recorded 4 songs in the studio and put out one split 7″ with this band Wheeljack during my time as their bass player.
After that, I started playing music with these folks I met in the composition program at the University of Georgia. We called ourselves Push Down Automata (Colin Bragg-guitar, Mark Fisher-moog and arps, Robert Duckworth-percussion, and me on cello) We played a bunch of openings, shows at Jittery Joe's, and weird outside events with folks like the Medaglia d'Oro Orchestra, Dixie Blood Mustache, Melted Men, and Paul Thomas. That's when I first met all the folks I play with now.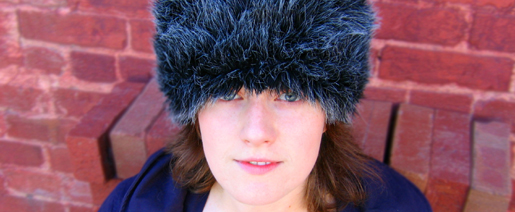 The Instruments stuff slowly evolved from that time. I was having a hard time sleeping and finishing my composition degree from the University around 1998-99. I was taking my juries (kind of like the equivalent of finals for composition and music performance majors) way too personally. I was writing these really concentrated, compact pieces that happened to stem from a really dark time in my life. Somewhere in the midst of not sleeping, I borrowed a friend's 4-track cassette recorder and I started writing songs with this guitar that I borrowed from my mom, this upright magnus air organ I got at a thrift store in Pennsylvania, and a realistic microphone I got from my dad. It was nice to kind of come up with stuff and allow motives to roll together for a while and sort of just enjoy that, without the juries, without the criticism.
Over the course of the next few years, I started playing some house shows with friends and I was finally encouraged to make a record somewhere around the time I was living on Elizabeth Street in Athens, Georgia, and getting ready to go on that first tour with Circulatory System.
2) I'm in love with "Seems So Far." This is the hit single, as far as I'm concerned. What was the inspiration, musically as well as lyrically?
That song is a weird one. I picked up the guitar cold after not writing anything new in a really long time and it just sort of came out. I guess it is sort of a meditation. For me, it reminds me of this time I was just driving over the hills in this amazing autumn North Carolina pre-dusk window, listening to this one Luciano Berio tape over and over again, and happy sing-yelling to mix tapes, and just sort of this warm memory of that.
3) The artwork on Cast a Half Shadow is credited to Bridget Mullen and "old paintings by children." Where did you or Bridget find these? And can you explain the "dream about a wingnut" that inspired the album title?
The title of Cast a Half Shadow came from this dream Bridget told me about one morning when we worked at R. Wood Studio (a pottery studio in Athens) together.
I didn't remember the whole dream, but the image of this object casting a half shadow really stuck with me. I asked Bridget about any other details from the dream and she went through her notebooks and found this. I'm going to give you the whole entry, just because it's kind of funny.
The dream about the wingnut dated June of 2002:
In the dream I was driving my roommate's car and was waiting for a friend to return. I was with B and asked him if there was anything that I had borrowed from him. I had been looking at the lens cap on my camera and it reminded me to ask him. I realized I had borrowed a level for the coffee percolator and a wingnut that cast half its shadow. We had been sitting on the curb, facing the parked car a foot from our faces, when I hear my friend coming back. I knew she was approaching because she was wearing parachute pants that swished when she walked.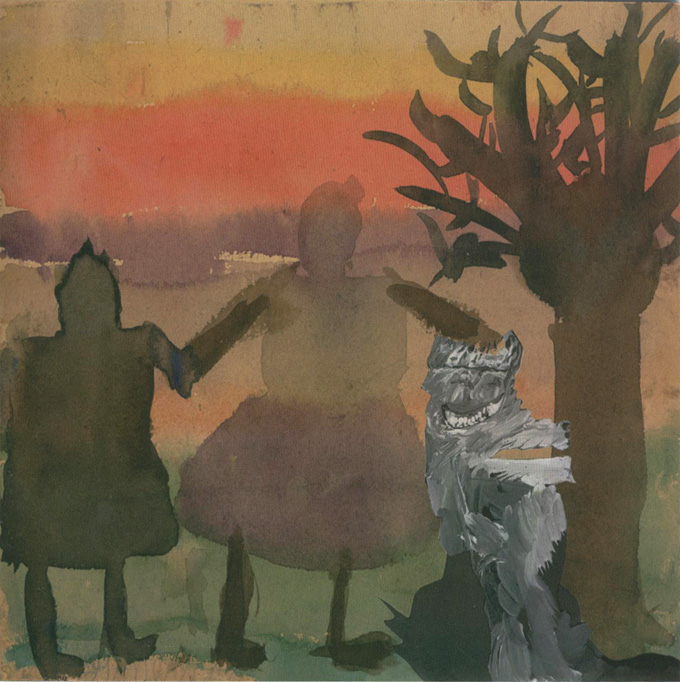 Here's the scoop from Bridget regarding the artwork itself.
The paintings were given to me by Phillip Chen, my printmaking professor in college. He had acquired a large collection from the estate sale of an elementary school teacher in Des Moines.
I could find no signatures on the paintings that I included in the Instruments CD art, but on one of them I did find a date of 1935.
I wonder how much more vibrant the watercolors were when they were painted. Why were they saved? Are the artists (who would be in their 80's now) still alive? It's strange to think it's possible that one of the artists could see the Instruments CD and remember his/her painting!
My part in the artwork is the added black, white, and grey figures. They are from a series of spotlighted tar paper cut-outs entitled "Quick Cuts." The collaboration was inspired by Heather.
4) How did your recent U.S. and European tour with Elf Power go? (I understand your tour van was broken into in Chicago.)
Aside from the van getting broken into, no luggage-having situation, it went pretty well, actually. It was a whirlwind. We did the entire U.S. in around 3 weeks. I think we had 3 days off, which were mainly driving days. It was different to open shows for Elf Power, in comparison to Circulatory System. With Circulatory System we would kind of take over the whole evening. Instruments would play, then Pipes You See, Pipes You Don't, then Circulatory System. It was kind of a natural progression from quiet to rock, but on this tour The Instruments were kind of sandwiched between local pop/rock stuff, up-tempo kind of groups and the rock of the Elves. It's hard for an audience to reacclimate to quiet after they have gotten used to yelling for a drink and shouting rock show crowd banter. I feel like it was a great lesson in devising the magic set list, working as a quartet (playing with Pete Erchick-keyboard, Derek Almstead-guitar, Josh Lott-drums), and keeping it together in general. I would have fallen apart under much milder circumstances four years ago.
Europe was pretty intense. We had a lot of big drives and we cut it close to many of the super early sound checks over there.
We had some really nice surprise visits with friends over there too. The promoter for our show in Brighton and his family were amazing, a friend of ours who does the Emmaboda Music Festival made it to our show in Kristianstad even though he lived pretty far away, we got to see Jamey Huggins [of Montreal] up in Stockholm, and our Scottish driver Keith was great too. Sadly enough, you never get enough time to see much of anything for longer than two seconds and we were still pretty delirious from our U.S. adventure. I wouldn't be able to pull off seeing any of those places any other way, and I am also not sure what I would do with myself if we weren't hauling it to another venue or trying to catch some trans-continental transport tunnel thing at the last minute.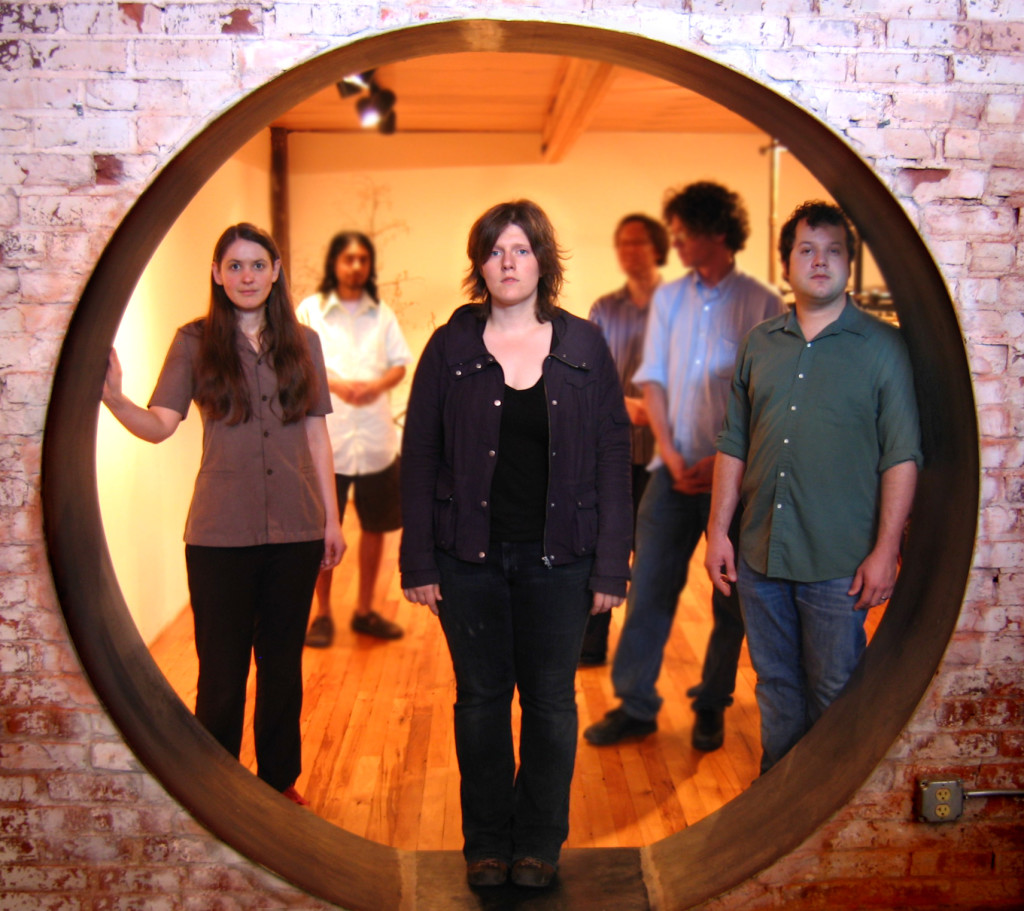 5) Happy Happy Birthday to Me has announced you'll be releasing a 7″ on their label of just Joy Division covers. Why did you decide to cover Joy Division, and what songs have you chosen?
I can't remember if it was last year PopFest or the year before, but I had this really ridiculous conversation with Mike Turner from Happy Happy Birthday To Me about Joy Division and how I have always wanted to cover a bunch of their songs, but just cello and drums. I don't think I could do Ian C[urtis]'s voice any sort of justice, but the cello seems perfect. It has been an idea I have been kicking around since high school, even before I had started playing cello in bands.
I have three pretty much worked out…"New Dawn Fades," "Decades," and "Passover" (minus drums). Mike Turner had mentioned I should try to do "Ice Age," which I think would be fun. We'll see how much we can cram on that 7″.
6) How is the new Circulatory System record progressing, and how do you think this will this compare with the previous album?
The new record is coming along well. We did a lot of work on it with Gary Olson [The Ladybug Transistor] at Marlborough Farms before Derek and I went on tour with the Elves this past spring. I think it was a really productive time for all of us. Just to really make a checklist, and determine what needs to happen on what song, and to really listen to things together. Mixing is just a complicated process and this is a big project. I don't have any perspective on the new record yet. I am still kind of taking it in right now. It's hard for me to compare it to the last one. All I know is that I am excited every time I hear the mixes.
* * *