My March 2006 interview with Robert Schneider of The Apples in Stereo sparked a collaborative relationship: he began sharing songs from his "secret" psych project Thee American Revolution (every 4th of July, naturally – also my birthday, which was a plus), contributed rare Apples and Marbles artwork, composed and sang a theme song to the short-lived Optical Atlas podcast, and also asked if I would write the liner notes to his greatest hits album, #1 Hits Explosion (I was thrilled to oblige). Backstage at the first Elephant 6 Holiday Surprise Tour in Chicago, he introduced me to Jeff Mangum of Neutral Milk Hotel, who declared himself an Optical Atlas fan. (I mumbled a few sentences of broken syntax and hobbled away.)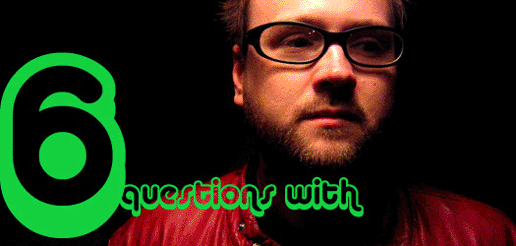 Robert Schneider/The Apples in Stereo: March 17, 2006
Robert Schneider is one of the founding figures of the Elephant 6 collective, with childhood friends Jeff Mangum of Neutral Milk Hotel, and Bill Doss and Will Cullen Hart of Olivia Tremor Control. Best known as the lead singer/songwriter of the Apples in Stereo, he's also released recordings as Marbles, Orchestre Fantastique, Ulysses, and (in the near future) The American Revolution. If that weren't enough, he's mixed, mastered, and/or produced many notable projects, including the Minders' Hooray for Tuesday (producing and performing), Beulah's When Your Heartstrings Break (mixing and performing), and Neutral Milk Hotel's In the Aeroplane Over the Sea (producing and performing). As an indie pop icon, he's influenced many of the most popular indie acts of today, and has even had an episode of "The Powerpuff Girls" dedicated to his band: an animated appearance by the Apples in Stereo singing "Signal in the Sky". In the last two years he's released 010 by Ulysses on the Eenie Meenie label, and one of 2005's best albums, Expo by the Marbles. It's been three years since their last album (Velocity of Sound), but the Apples, who now share personnel with Dressy Bessy and High Water Marks, will be staging a comeback soon with a new album entitled New Magnetic Wonder, and, shortly following, a collection of rare tracks.
1) So what have you accomplished this last week or two? (I hope that doesn't sound condescending. I'm just curious.)
Let's see, I have done the following, not in order: Three-day Marbles tour with of Montreal, signed my son Max up for kindergarten next school year, wrote and recorded a whole Marbles song about of Montreal to play live to pump up the crowd for them, then scrapped the song at the last minute because it didn't sound finished, drove around the midwest with Marci my wife and met some odd people, overdubbed a ton of Mellotrons and slide guitars on the new Apples record, recorded two new American Revolution songs, flew a kite successfully (Max and I pretended we were Benjamin Franklin and his son discovering that lightning is electricity, Max's idea), wrote four papers on mathematics (for personal pleasure), wrote and recorded a complete new song for the Apples record, saw Belle and Sebastian play on my birthday (March 9) and saw some friends, turned 35, played an American Revolution show (it was more like three weeks ago but whatever), mixed with the Ideal Free Distribution, understood tension in a string (made my brain feel funny), understood rainfall (sort of), sang onstage with Of Montreal (good time), practiced to play a couple of songs with the Ideal Free Distribution at their first show (March 17, Lexington), changed pants at least three times, and recorded some more Mellotrons on my new Apples record. (I think that covers it.)
2) Her Wallpaper Reverie was psychedelic, Discovery of a World Inside the Moone definitely had a 70's funk feel, and Velocity of Sound was stripped-down garage rock. Can you drop any hints as to what the new Apples album will sound like?

Maybe somewhere between Fun Trick Noisemaker, Discovery, and a NASA launch pad. It is extremely poppy, super fat and hi-fi, has a significant touch of the Velvets, lots of slide guitars and Mellotrons, and also it rocks out quite a lot. The production varies quite a lot from song to song, lots of overdubs.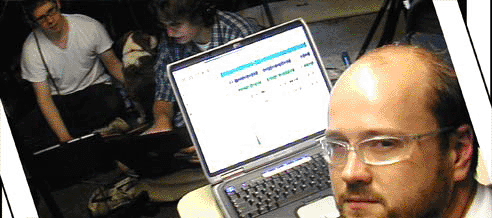 3) In the realm of side-projects, is Ulysses still an active entity, and what exactly is The American Revolution?
Ulysses is 100% active in theory. We have not in fact practiced or played since John Ferguson quit the band as the drummer like a year and a half ago, then re-joined as the theoretical part-time keyboard player, but we intend to. Ben Allen joined the band as the theoretical drummer, and we have about an album of theoretical songs to record (both old unrecorded songs and new songs written for Ulysses). John Ferguson had a baby, Robert Beatty plays in multiple experimental bands and has been touring, Ben Fulton has been mixing the new Big Fresh record (his band with John) and also I believe is employed as a cosmonaut, and our new drummer Ben Allen plays in multiple bands. I have recorded and toured with Marbles and the Apples since the release of the Ulysses album 010, have gotten married, have been busy as a daddy, and have been doing work on mathematics. So we keep saying that we will have band practice and some time soon it is sure to happen. The American Revolution is this acid rock band I am in with my brother-in-law Craig Morris. We totally rule in the most retarded manner! He is the best guitar player in the vein of Jeff Beck-era Yardbirds, except that it sounds more like Royal Trux trying to play "White Room" by Cream due to our primitiveness. Most important to mention is that I am not the leader of The American Revolution, and neither is Craig. It is someone else.
4) How do the Apples get together these days? Are you each living on a far side of the earth?
Hilarie Sidney (drums, vocals) and I both live in Lexington, Kentucky, and we do get together to play and record. John Hill (rhythm guitar) and Eric Allen (bass) both live in Denver, where the band is officially based. As Lexington is more centrally located, John and Eric travel here for band practices before we go on tour or when we are recording. I fly out to Denver to record. We actually recorded basic tracks for our new album in Brooklyn and we are all present at various times in various combinations in the studio. The overdubs have been done mostly at Pet Sounds, also at John Hill's studio in Denver, and I will be doing some work at my friend Otto Helmuth's studio here in Lexington. Yeah, the distance between cities does prevent us from practicing more often. But actually, the Apples have never practiced that much aside from recording and touring, so except for socializing, our getting-together schedule has not been changed that much since half the band moved to Kentucky (which is green and lush, unlike Denver).
5) What does Pet Sounds look like now, compared to the old studio?
Well, it used to look like this photo [below], around the time I recorded the second Neutral Milk Hotel album there (when this photo was taken), before I got my Neotek console, Ampex tape machine, or a computer come to think of it. Now it looks like a cluttered garage and basement filled with antique musical equipment, and a house absolutely covered with wires, electronics, and studio gear when I am working. The rest of the time it looks like a tidy house, and the wires, electronics, and studio gear coexist with toys, books, and my peeps.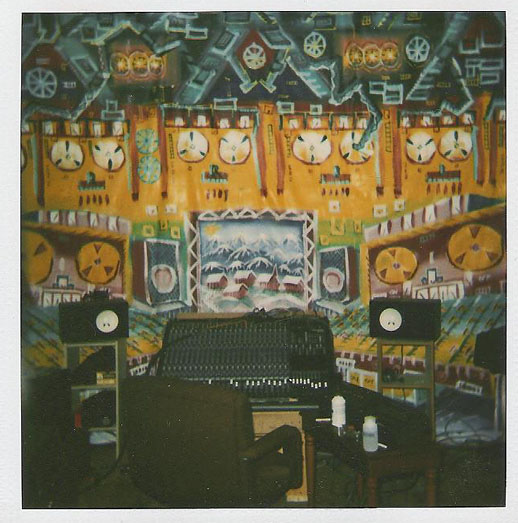 6) What's your proudest recording moment of the last couple months or so?
Hmmmmm. I have been recording quite a lot! I can single out two times this last month, where I had transcendental moments in the studio, like I am sitting between the speakers and feel completely elated and I can't believe how fucking good it sounds!
1. Slide guitars on the new Apples song called "Energy," which I really felt weightless and such great satisfaction after recording–in fact I have had more of those ecstatic weightless moments recording the new record than I have had since recording Fun Trick Noisemaker when I had my first real studio setup (eight track reel-to-reel).
2. Finishing an American Revolution song "Subscription to Magazines" in no more than thirty minutes from the time we picked up our instruments– we wrote the song, recorded it and mixed it like kids tumbling down a hill! And it rocks in such a raw pure way and is also really catchy, and sloppy and flawed and tossed-off–which of course you can hear in the recording, and is what makes it awesome! We didn't even notice the main riff is a rip-off of "Smoke on the Water" until after it was mixed!
* * *